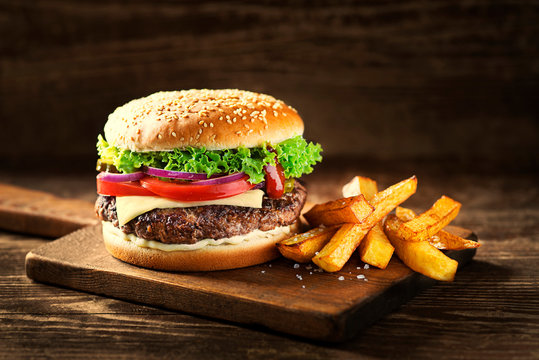 In stock
262
262 people viewed this food.
Cheeseburger and Fries

They are similar in terms of flavor—salty, fatty, and delicious. But because cheeseburgers are usually quite hearty, it's nice to take little "breaks" between those big bites and plop in one or two skinny fries.
Fries are undoubtedly the side item, but they help advance the burger to new heights.
And, of course, you can eat a cheeseburger and fries on many different occasions.
They're perfect at barbecues, festivals, family outings, or simply in the comfort of your home, especially if you have a grill and a deep fryer.
Food Ingredients
Cheeses - 2 Unit
Meat - 50 g
Vegetables - 20 g
Food Nutritions
Cholesterol - 96 mg
Protein - 34 g
Calcium - 29 mg
Potassium - 1121 mg